Seven Counties Services is a 2023 Top Workplace and Cultural Excellence Winner
Seven Counties Services is proud to be recognized as a 2023 Greater Louisville Area Top Workplace in the large business category by the Louisville Courier-Journal! We've also been recognized with a 2023 Top Workplaces Culture Excellence Award, and a specialty 2023 Top Workplace Meaningfulness Award! 
We are honored to share that the Top Workplace Meaningfulness Award is a specialty recognition for the organization whose employees feel their work is most meaningful. Additionally, the Top Workplaces Culture Excellence Award recognized our organization for excelling in the following areas of workplace culture:   
Employee Appreciation

: Demonstrates gratefulness for the efforts of employees with employees reciprocating by being motivated to give their best at work.

 

Employee Well-Being

: Puts the health and wellness of employees at the center of their workplace culture. 

 

Professional Development

: Focuses on developing employee's careers and enables them to grow professionally.

 
These awards are based solely on employee feedback gathered through a confidential, third-party survey administered by employee engagement technology partner, Energage.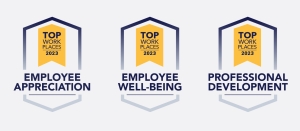 Why Seven Counties Services is a Top Workplace
With employee benefits such as generous compensation packages, sign-on bonuses, tuition reimbursement, student loan assistance, career development and growth, an employee health clinic, work-life balance, and more, we're proud of our excellent workplace culture. But don't just take our word for it. Hear from Seven Counties Services employees who have been here for 10+ years why Seven Counties Services is a Top Workplace:  
"I have worked at Seven Counties Services in the Developmental Disabilities Division for 25 years. The thing that makes Seven Counties Services a Top Workplace is helping our clients. I tell people it's great to work at a place where I get paid to help people and change lives. It's great to see our clients meet their full potential, accomplish things they never thought they could and become as independent as possible."  – Mary Vorseth, Developmental Disabilities Principal Case Manager and Service Coordinator  
"Seven Counties Services is a great place to work because, above all, the company is family orientated. This includes family services for the clients and care between services, as well as caring about the employee's family. Another thing that makes it a great place to work is the variance of different schedules based on location. Last but not least, the staff are kind and caring, and will attempt their best to help any of our clients in need."   – Honarai Harris, Health Information Specialist 
"Seven Counties Services goes above and beyond to better the lives of countless members of society. Not only do we, as service providers, believe in our mission but the community does as well! The work we do is driven by morals, values and ultimate respect for the populations we serve. If there is a need for a service or intervention that will help the lives of others, trust me, Seven Counties Services will create it. This is proven through the use of evidence-based practices within the work we do which offers hope to those we serve. They say it takes a village and Seven Counties Services is just that, a village."  – Arneka White, Child & Family Services Unit Manager 
"Seven Counties Services is a great place to work because of the people who work here. In my 30 years, I have worked in three different programs: IMPACT, DSD First Steps, and currently with Transitions- Family Recovery Court Program. In all three programs I have been fortunate to have amazing and supportive supervisors."  – Nancy Caple, Child & Family Principal Case Manager and Service Coordinator
"The mission of Seven Counties Services has always been about helping individuals and families realize their potential. The people side of our mission is very important. The opportunity to be of help to our staff, in all sorts of areas of our business, is very satisfying. By helping our staff in these ways, I get to contribute to the overall mission, and I get to realize my potential too."  – Barbara Orr, Health Information Officer 
Join a Growing Top Workplace 
Our recognition for Employee Appreciation, Employee Well-Being, Professional Development, and Meaningfulness are testaments to the excellent workplace culture standards we hold ourselves to. As a Community Mental Health Center offering a full range of mental and behavioral health services, substance abuse treatment, and intellectual and developmental disabilities services in a seven-county region in Kentucky, we are always growing to meet the needs of the communities we serve.  
"Our team is made up of over one thousand incredibly skilled and passionate individuals who drive our mission to boldly provide quality care and health services to improve the lives of individuals and families," said Abby Drane, the President & CEO of Seven Counties Services. "Together, we are committed to this community and to each other. These recognitions inspire us to continue to lead the charge toward a brighter, healthier future!"    
If you're interested in joining a Top Workplace that's proud of its excellent culture and inspired to continue improving the lives of individuals and families, visit our career page. Choosing a path with Seven Counties Services is more than a career – it's a purpose!